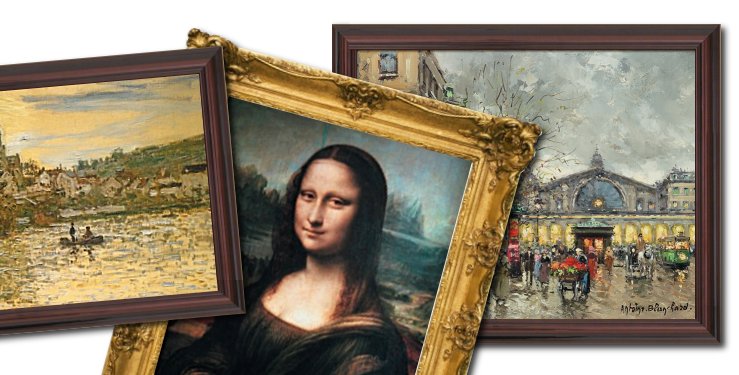 What ever happened to Brushstrokes®?
We receive so many inquiries about Brushstrokes® that we decided to post this information page.

Because of some confusion over domain names, and trademarks that have been legally registered in different countries, we receive a lot of website traffic and communications from people that are not intended for us. We do our best to respond out of courtesy, but at the end of the day this is not something that we make any money out of.

As you will read below, we have been open to resolving this confusion many times, but the other parties involved have either handled the situation badly, or simply not been serious about getting it resolved, ultimately contributing to their own failure.
What was Brushstrokes®?
Brushstrokes® has been used as a trademark by a number of companies over the years, for anything from art and art reproduction through to computer software.

Many people know of Brushstrokes® as a method of reproducing the three dimensional texture of a painting, showing both the color and the detail of the individual brushstrokes present in the original.

One such method was developed in Canada in the 1990s. In the days before 3D printing it was a revolutionary method of reproducing fine art.
Digital Design Ltd.
Digital Design Ltd. (the owner of this website) is an electronic and software engineering company, formed in New Zealand in March 1987.

As the internet expanded we got more and more into internet services. We registered the Brushstrokes.com domain in February 1997 and set up a website initially selling original oil paintings, and later obtained a Registered Trademark for Brushstrokes.

At the time we had no knowledge of Atelier America and their business activities in North America.

You can learn more about Digital Design Ltd. here:

Atelier America Inc.
Atelier America Inc. was founded by Harvey Kalef in Markham, Ontario, Canada in the 1990s. They pioneered high quality reproductions of the old masters, and ran a traditional catalog based mail order business in North America.

At the time Atelier America was started Hallmark Cards Inc. had a financial interest in the company.
The Blackburn Group Inc. invests in Atelier America Inc.
Unfortunately Atelier America Inc. was slow to make the transition from a traditional catalog based mail order company to a modern internet driven business.

To finance this dramatic change the Blackburn Group Inc. of London, Ontario, Canada invested heavily in Atelier America Inc.

They paid Iguana Studios, New York, one million dollars to develop a website for Brushstrokes. However they had one significant problem - they didn't own the Brushstrokes.com domain.

The first that we (Digital Design Ltd.) knew about any of this was in November 1999 when we received an e-mail from William Goldstein representing a "Canadian art company" interested in buying the rights to the domain.

Unfortunately they embarked on a lot of deception in the early stages of negotiation, which of course eroded away any trust. After negotiating with them over a four month period we were not able to agree on a realistic price for the Brushstrokes.com domain. They were prepared to go no higher than $150,000 and we were holding out for somewhere between $200-250,000. Had the deal gone ahead Atelier America Inc. could have recovered this in a matter of weeks once the new business was launched.

In order to move forward with their "Plan B", Atelier America then registered nearly 30 domain names, many in the form of BrushstrokesSomething.com. The two that most people will be familiar with were BrushstrokesArt.com and BrushstrokesDirect.com.

In November 2000 Atelier America Inc. went live with their million-dollar website under BrushstrokesArt.com. This was later switched to BrushstrokesDirect.com.

Because of the confusion over the domain names we got a significant proportion of their traffic. In fact even Iguana Studios themselves had inadvertently programmed parts of the new website to send e-mails to Brushstrokes.com rather than BrushstrokesArt.com. We continued to receive these e-mails for a year before this error was corrected.
Bankruptcy of Atelier America
After trying to struggle on for a period, Atelier America Inc. eventually filed for bankruptcy.
Brushstrokes Fine Art Inc.
The assets and equipment of Atelier America Inc. were then bought by Mitchell Wine, who then formed Brushstrokes Fine Art Inc., in Richmond Hill, Ontario, Canada.

Mitch Wine is the son of Harold Wine, Chairman of WSP International Limited. Both were directors of Brushstrokes Fine Art Inc.

Mitch did a remarkably good job of rebuilding the company. Under his leadership Brushstrokes Fine Art Inc. signed a major contract with the IKEA retail chain, and they ran a "photo to painting" process through the Michael's Arts and Crafts stores throughout North America, and via the QVC TV channel.

Unfortunately they still did not have the Brushstrokes.com domain, and we were getting traffic that should've been going to them.

Rather than approaching us openly and directly, our first contact came in 2004 from Grant Weltman of WSP International, "a marketing company in Birmingham Alabama". He offered us $5000 for the Brushstrokes.com domain, which of course we turned down. Then in 2005 we were approached by Mitch Wine "of WSP International", trying again to see if we were interested in selling. Through all of this there was no mention of their connection to Brushstrokes Fine Art Inc. Had Mitch Wine approached us openly from the beginning and made a realistic offer a deal would've been reached.

Thus began an annual attempt for Brushstrokes Fine Art Inc. to try to get the Brushstrokes.com domain. It always came around the time of their Christmas sales push, usually shortly after Christmas when they reviewed their sales figures.

Once again, over time their business spiralled down. In an effort to reduce their operational costs they moved part of their operation to Mexico, saving them 40-50%, but it still wasn't enough. They needed more sales.
Bankruptcy of Brushstrokes Fine Art Inc.
Sadly, once again the business failed. Brushstrokes Fine Art Inc. went into receivership on June 6, 2011 and was declared bankrupt on September 7, 2011.
Greenfield Commercial Credit Inc.
As Greenfield Commercial Credit Inc. was the principal secured creditor in the Brushstrokes Fine Art Inc. bankruptcy, they acquired the company.

Unfortunately this came at a time when they were more concerned about selling themselves to Gibraltar Business Capital than keeping Brushstrokes Fine Art operational. As a result they allowed the BrushstrokesDirect.com and BrushstrokesArt.com domains to expire and everything was shut down.

Greenfield Commercial Credit was sold to Gibraltar Business Capital in March 2012.
Where to now?
Clearly there is now a void for this type of product in the marketplace, and a multi-million dollar business opportunity for whoever gets to fill it.

Digital Design Ltd. is already exploring methods of art reproduction using laser scanning and 3D printing technology.

Unlike the previous method where the 3D texture on the final reproductions had absolutely no connection to the brushstrokes of the original artist, but rather those of an in-house artist creating the mold, our method will be a 100% faithful reproduction of the original artist's work.

In addition we will solve the number one complaint from art buyers worldwide:

"The cost of framing was outrageous. It cost me several times more than what I paid for the painting itself."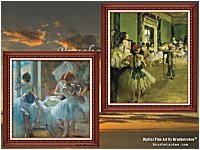 Digital Fine Art
by Brushstrokes®

From within the Brushstrokes.com website customers are taken through a number of steps to:
choose the painting

select from a range of border styles and mounting options

select the frame
Once they are happy with their selections they order the product, and it is printed in one piece - painting, border, and frame by a 3D printer and shipped to them.
As Digital Design Ltd. is an electronic and software engineering company we are ideally placed to build the custom equipment and software that runs the entire production line - from the website all the way through to shipping.
We are currently looking for investors so we can move the development at a faster pace. If you would like to open up a discussion with us about this, you can e-mail: